2/19/2022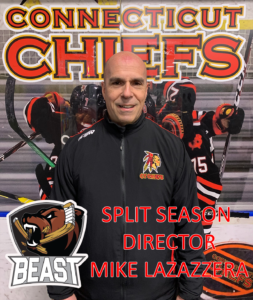 The CT Chiefs are pleased to announce New Split Season Director Mike LaZazzera. Coach LaZ will be focused on developing quality Split Season Teams to play in the Beast  Tournament Series.
Located in the Northeast and Mid-Atlantic regions of the United States, the BEAST Tournament Series celebrates its 6th season in the fall 2022 having established itself as the top showcase league for U18, U16, U15, U14, & U13. Simply put, in just five seasons, the BEAST league has set a new standard, and this is proven through both NCAA Commitments and National Championships.
Mike LaZazzera ("Coach LaZ") has coached at every level of hockey including the NHL, AHL, IHL, ECHL, USHL, OHL, NCAA D1/D3, China, EHL as well as High School hockey. Coach LaZ started his coaching career at the High School level in Massachusetts and from there coached at every level all the way to the NHL. Elite Prospect Staff - Mike LaZazzera
Coach LaZ also has a strong academic background and presently is pursuing 2 PhD's; one PhD is in Performance Psychology and the other PhD is in Leadership. Coach LaZ believes today's athlete has many resources as simple as a text or a quick google search and if given the opportunity, a committed athlete will seek out those resources provided by their coach, other coaches, mentors, and performance specialists.
Coach LaZ has a sports psychology and sports counseling background with over 5000 hours of counseling and mentoring ice hockey players from the Pee Wee level to Professional players. Coach LaZ has provided and implemented sports psychology workshops with various themes for a number of youth, high school, junior, college and professional teams. Coach LaZ also has extensive experience providing direction for players looking to make it to the 'next level' … whatever that level may be.
Coach LaZ's 35+ years of coaching/mentoring/counseling experience at all levels of hockey has given him an incredible 'network' of contacts/coaches all over North America and the world.
Mike LaZazzera
(413) 330-9788
MikeL@ctchiefs.com
Click To View Your Team Schedules & Roster