Chiefs Charity Fundraising Hockey Game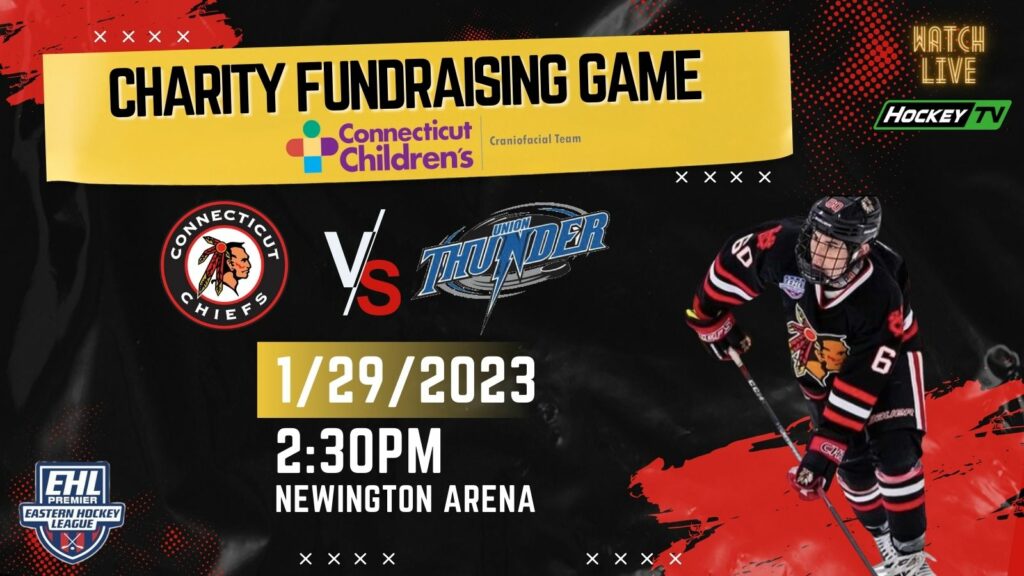 CONNECTICUT CHIEFS PARTNER WITH CONNECTICUT CHILDREN'S CRANIOFACIAL DEPARTMENT FOR CHARITY HOCKEY GAME 
 Connecticut Children's Craniofacial department on a charity hockey game on January 29th at Newington Arena to benefit the Department's Special Purpose Fund. 
  NEWINGTON, CT - Connecticut Chiefs Owner and President Brandon Johnson announced that the team has agreed to partner with the
Johnson has seen the great work the Craniofacial department has done firsthand. His son Bryce was born with a cleft lip and endured several surgeries. "The Craniofacial team at Connecticut Children's always goes above and beyond for Bryce and all their patients and their families." Johnson's wife Kristin added, "We felt it was time to give back what has been so freely given to us." 
All donations and funds raised at the game will support the Craniofacial Special Purpose Fund. This initiative brings Craniofacial patients and families together for special events and provides additional assistance where it's needed.  
 "We saw how great the Special Purpose Fund works with the families we got to know while bringing Bryce to Connecticut Children's. As an organization, in addition to teaching the sport and helping players live their dream of playing college hockey, we also teach them the importance of giving back to the community as an essential part of having a good character that we try to instill in our athletes. Knowing firsthand what a great job they do, this was a very easy decision for us to make, and we're thrilled we did," Johnson said. 
The CT Chiefs and Union Junior Thunder of the Eastern Hockey Premier League will go head-to-head in the contest. The doors open at 2:30 PM and will feature mascots, raffles, a ceremonial puck drop, craft tables, and more! 
Tickets are available at the door with a suggested donation of $10.  
A special thank you to our sponsors; Eagle Rock Properties, Autumn Transportation, and Riggs Distler. Without their support, this event would not be possible. 
For over 14 years, The Connecticut Chiefs have been the state's premier hockey organization, offering youth programs U6 through Junior hockey U20. The Chiefs are dedicated to developing players as athletes on the ice and off in pursuit of a future playing at the highest game levels that a person's talent can take them to. The Chiefs also seek to teach personal character development with the same fervor as they do athletic excellence.  The Chiefs have advanced over 500 players to Prep, Junior, College, and Pro Hockey since the 2008-2009 Season
help brighten the smile of a child forever!
Connecticut Children's Craniofacial Special Purpose Fund helps purchase items not covered by the regular Craniofacial department budget.  The items purchased are given to patients who receive care at the Craniofacial Department at Connecticut Children's.