Charity Game Hockey for Jett Sunday, February 26 4:00 PM EHL CT Chiefs vs. Railers Hockey Club
Th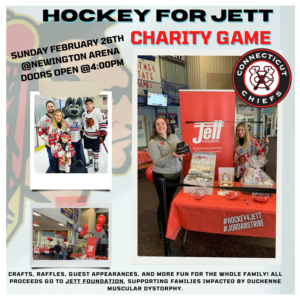 e CT Chiefs will be hosting a Charity Game Sunday,  February 26 4:00 PM EHL Chiefs vs. Railers.
Jordan, the nephew of CT Chiefs owner Brandon Johnson, is a eight-year-old, 3rd grader from Glastonbury who was born with a rare, neuromuscular disease called DMD.
There is no cure for Duchene's Muscular Dystrophy (DMD) , but life-changing treatment have been funded through a charitable organization called the Jett Foundation.
Jordan is a bright light in our community, please join us in supporting his fight against DMD.
100% of proceeds will go directly to the Jett Foundation
$10 suggested minimum donation at the door
Game Jersey Auction
Raffle prizes