Aryx Siefker QMJHL Draft 1st Rd 17th to Charlottetown Islanders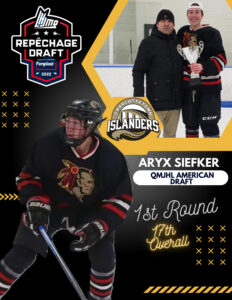 The Connecticut Chiefs congratulate  2006 Aryx Siefker for being drafted 1st Round 17th  Pick to Charlottetown Islanders in the QMJHL American Draft.
Aryx has been with the CT Chiefs since U11 Peewee Minor. This season Aryx was a top defenseman for the 15U Chiefs team that won the AYHL Championship. Aryx was also  named to the AYHL Allstar Game.
15U Head Coach Ike Corriveau said "Aryx has worked really hard the past two seasons on the ice and especially in the gym. The work has shown in his game."
For the 22-23 season, Aryx will be attending Winchedon Prep School to further his academics and hockey career.
The Quebec Major Junior Hockey League (QMJHL) is a Major Junior Hockey League based out of Canada (although some teams reside in the United States).  The OHL is one of three Major Junior Hockey Leagues which comprise the Canadian Hockey League (CHL).  The other two leagues are the Ontario Hockey League (OHL) and the Western Hockey League (WHL).
18 teams comprise the QMJHL which is broken down into three divisions.  The champion of the QMJHL wins The Presidents Cup and represents the QMJHL in the Memorial Cup which is made up of the three CHL champions and the host team.
The QMJHL has a rich history of producing some of the highest quality NHL players.  Notable alumni include Mario Lemieux, Luc Robitaille, Sidney Crosby, Patrick Roy, Ray Bourque, and Pat LaFontaine.  The National Hockey League (NHL) drafts dozens of QMJHL players every single year. 
The QMJHL Entry Draft is held every year to draft some of the best 15 and 16 year old hockey players in Canada and the United States (some from overseas).  These players are among the best youth hockey prospects in the world and many have high-end professional potential.